The Mastermind Experience part 1
Feb 27, 2023
Journal of an amazing EMC design experience
by Sara Marie Andrews, EMC
The story of the EMC Mastermind Experience, as seen through the eyes of the participants enfolds in a 3 parts blog, detailing every aspect of the journey our designers have embarked on in September 2022. Set up as an anniversary event to celebrate 10 years of EMC, it transformed into an adventure of creativity mixed with fun, challenges and growth all together. This blog is merely the first of a 3 parts story that will engage you in a deep understanding of how the class created a magical experience for the atendees.
In the autumn of 2021, a small group of determined stalwarts who were longing to take part in the Advanced Course which had been delayed for eighteen months because of the pandemic like the rest of the world, managed to get themselves to Bruges, with some also visiting Fleuramour, which was only given permission to open at the last moment. We dragged ourselves through the mountains of paperwork needed, and the unpleasant but necessary visits to testing sites, whether it was in the airport, the railway stations or the one visited by the majority of us in a shopping precinct six kilometres out of Bruges, just so that we could, hopefully, reach our intended gaol and graduate with permission to add those precious initials, EMC, after our names. We did it, and it was an experience that I will never forget.
The euphoria stayed with me for some time but I began to feel that I was missing out on something in my life and it was not long before I realised how much I missed being with my floral friends; people with the same enquiring mindset, who need to undertake challenges to stretch their mental and creative abilities, who want to learn about all aspects of floral design around the world, and I was still wishing to grow my knowledge and understanding of global floral events and cultures. I felt very privileged to be involved with the EMC blogging team and this helped but there was still this feeling that I needed to be with others who feel like I do. Taking part in the monthly Conscious Creative Challenge alleviated the problem a little, but it was still not enough. It was then that I received an email saying that 2022 would be the tenth anniversary of the start of the EMC and that ideas were being put forward to celebrate this auspicious occasion in a number of ways, including something special for the alumni, as well as the starting of the new Circle platform for EMC. Shortly afterwards, to my surprise, there was a burst of peacock feathers lighting up my inbox! This was the first I knew about the Mastermind Experience, and I was hooked from that moment on.
Reading the summarised version that came through to whet our interest and imagination, I knew that this was something that I would have to attend, if I could make the finances and the logistics work for me. It was going to be under the management and care of the Ambassador for the Alumni, Sue Tabbal-Yamaguchi AIFD, CFD, EMC, who lives and works in Honolulu, Hawaii. This was lucky for me as I had already got to know a little about her when I was asked to write a mini blog on her as a member of the core team for EMC. I had also learnt that besides all the weddings and events she already had booked for 2022, she was going to be on the main stage at the Roots Symposium in Las Vegas in the summer, and I just wondered how she would be able to cope with the extra work involved with the Mastermind Experience. Following a couple of points on which I needed a little clarification, I signed up to be included in this much needed and desired challenge, giving myself something to look forward to and work towards, in September 2022.
I had the provisional itinerary, showing that we would be attending the EMC family day at Fleuramour, joining the Advanced Group for a few days in Bruges before going to Paris for two days, and then returning to Bruges to complete the Experience. It turned out that the trip to Paris and staying for one night was probably one of the most difficult items to work out, as it clashed with Paris Fashion Week, making it very difficult to find somewhere to stay at a reasonable price and, as we were to learn, making it difficult to move around and actually find taxis that could get us easily to destinations at the time we were expected to be in attendance.
During the build-up to the trip, I learnt that another of the UK alumni was also going to be attending. I was delighted, because I had got to know and respect Barbara Astbury during the time we spent together completing our Advanced Course and graduating in September 2021. We were originally hoping to travel together, but it was not to be, and we eventually met up on Wednesday, 21st September in the hotel in Bruges, a really good beginning to the whole Experience for me. Her reasons for attending she states as:
"I really needed a holiday and wanted to be with likeminded flowery people. I didn't really have any expectations of the Mastermind Experience, as it had not been run before, so for me it was more like a refresher course for EMC."
Having had three changes to my travelling plan, I flew into Brussels Airport and was so delighted to see the smiling face of Diana Toma waiting for me to arrive, and it was truly wonderful to relax and catch up with her during the trip back to Bruges, prior to her being deeply involved with the students arriving for the Advanced Class. Arriving at the hotel was almost like returning home. I knew where everything was. There were different receptionists behind the desk, but I knew what was expected of me, I knew where the lifts were and the room held no surprises, it was just the same as it had been a year before when I took my advanced course. It was comfortable, physically, and mentally.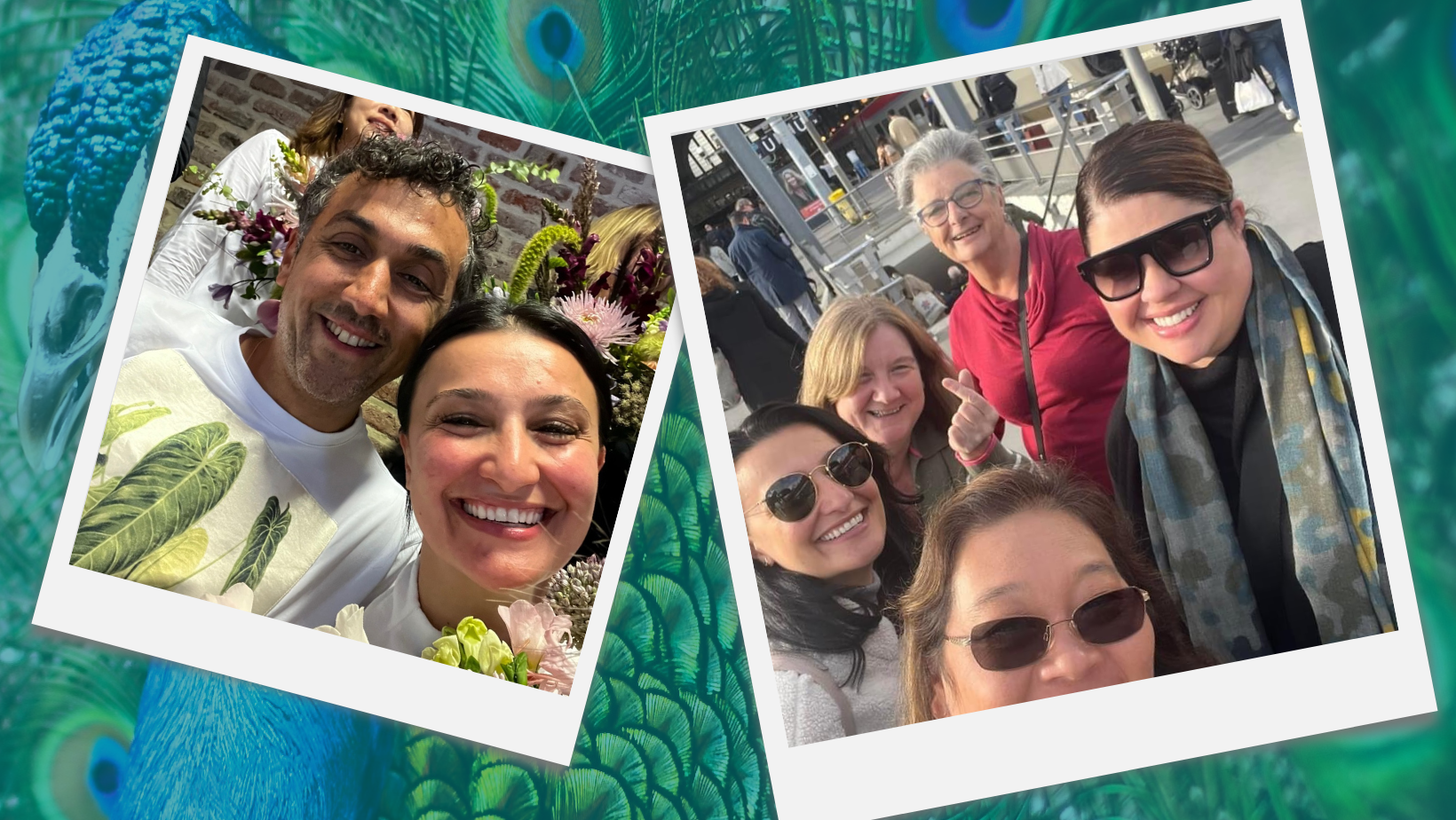 Having met up with Barbara, we spent some time planning what we would be doing over the next few days. I decided not to travel to Fleuramour on the Friday, but Barbara would do, and then we would both go on the Saturday. In the meantime, we did some shopping for food, went out for a meal and both did a bit of revision on what we had learnt during our Advanced course – we didn't want to get caught out! We also acted a little as an 'unofficial welcoming party' when others started arriving for the Advanced course, some of whom Barbara already knew from her Foundation course. In the end, four of us travelled together on the fantastic train service from the south west of Belgium to the north east in just over two hours, arriving at the entrance to Fleuramour, just after it opened, and at the same time as Tomas, who rushed over to greet us all, and to suggest that we should make our way directly to the Chapel to see the wonderful floral display in there, as there had been a huge queue for it the day before. Then it was time to meet as the EMC family, to celebrate the 10th Anniversary of the founding of EMC, and to finally meet up with the others attending the Mastermind Experience, including Sue, who had arrived from Hawaii the day before, Anahit Hakobyan who graduated in 2018 and Ursula Gunther who graduated in 2021. I had already learnt that we were to be a small group and that there would be eighteen taking the Advanced Course, many of whom were also attending the family day, plus it was great to see Melanie Smith and Jo Biddle, the other two florists from the UK who had also graduated in 2021, as well as Marios Vallionos, whom I had met when completing the Foundation course in 2019.
After the celebrations were over, we were able to take a quick look around the rooms decorated by designers from all over the world, the demonstrations being given by members of Floos and all the stalls selling bulbs, plants, jewellery and floristry sundries dotted around the grounds, before making our way up into the room where we treated to a workshop with Dmitri Turcan, producing stunning bouquets made according to his methods and his poetic love of botanicals. This was a very different way of working and mechanics for many of the participants, and they were delighted with the loose, open bouquets they produced. Sadly, it was time then to make our way back to catch the bus to the station to return to Bruges, but a joy to have Keith Stanley with us for a while, on his way back to Brussels, as we had been unsure whether we would be able to renew our friendship formed during the Advanced course, when he was one of the teachers.
"This was the first time I have been to Fleuramour, and definitely will not be my last" - Ursula Gunther.
"I have attended Fleuramour many times before, helping out other designers with their pieces. LOVE IT! My first time was when I came over to take my Advanced which was immediately after Fleuramour. Just a suggestion for the future – would it be possible to run the Mastermind Experience before Fleuramour, so that the work of the students could be put on display in a room?" - Sue Tabbal-Yamaguchi.
Sunday morning dawned, and we were suddenly surrounded by Advanced students from all over the world, waving flash cards, pieces of paper or sitting in groups, testing each other – it was time for the dreaded Nomenclature exam. As they moved off towards the exam room, I was thrilled to bump into all the students and relive the excitement I felt a year before, through them. Our official start to the Mastermind Experience was not due until the next day but we carried on with some revision, went out to do some shopping, had a meal, and prepared for what the next day would bring, In the meantime, Sue had joined the Advanced Group after they had completed their exam and spent an extremely useful time with them as their coaches, Diana and Francisca, took them through a review of what they had already learnt during their Foundation and Practicum courses, and what they would be doing during the week ahead.
"It was great to be included in the review section with the Advanced students. I think I was at a disadvantage as I had graduated a long way back, and the curriculum had changed. I thought the class was exciting in a new way and the Gestalt was a pure challenge to me. I am not the greatest in European designs and it challenged me. OK, it was a review but seriously I understood it way better this time around." Sue Tabbal-Yamaguchi
By the time Monday morning arrived, we were beginning to get to know a number of the students from the Advanced group, as well as finding out more about the other members of our group. As we took our places in the room, it was wonderful to see a little pile of treats for each of us, which we discovered Sue had brought from Hawaii. It is the custom when meeting people that you take a small gift with you, a custom much appreciated by everyone! We also found that we were going to be joining in with the theory lectures and demonstrations being given by Tomas each morning, before going into a smaller room to demonstrate what we had learnt in a practical execution and completion of a design. It was also a total delight to find that Keith had come to spend the day with us, prior to his return home to the USA. As we progressed through the morning, we were able to build on our previously acquired knowledge of Structures, Constructions and Natural Flower Supports. There was a very differing amount of prior knowledge and usage in our small group. Anahit, Barbara, and I use them all the time in the designs that we produce, but it was very interesting to hear what Ursula and Sue said.
"In the US, most floral designers do not use structures or constructions very often for daily deliveries. It is a whole new world for me since going through the EMC programme. I find I use them more for pieces that I create for my own growth or artistic expression, not for a paying client. I need to work on bridging that gap!" - Ursula.
"I didn't understand it fully before, but this helped me to understand it better. I do build structures that the flowers hide. I rarely do constructions that are decorative, that you can still see within my designs, but aim to work on that now." - Sue
We spent a fascinating time during the afternoon, learning how to put structures or constructions together securely and using natural flower supports, always trying to extend our ability and understanding further and really challenging ourselves. There was nothing 'safe' about these afternoon sessions, we were there to extend ourselves in an environment where we hoped to succeed and do well, but we also knew that there was no such thing as failing – it was just a further learning experience. We knew that we were due to have a 'feedback' session with Tomas, but this turned out to be the most exciting and valuable part of each day. He gave his time, energy, and experience in such an invaluable and creative manner, spending so much time with us, demonstrating clearly and unselfishly how much he wanted us to grow in our conscious creativity during the week, to the extent that we overran by well over an hour, and running on into the time when the Monday gathering for wine and cheese should have started! As Ursula said, "These sessions with Tomas in a small group setting were priceless and incredibly beneficial to my growth." A feeling echoed in words by Barbara. "It was great that Tomas took that extra time with us to fully explain everything in much greater detail."
To be continued...
Don't miss a beat!
New blogs, course offerings and what we are up to delivered to your inbox!
We hate SPAM. We will never sell your information, for any reason.